Roulette has an extraordinary reputation — it's one of the most well-known casino games, and it is suitable for a wide variety of different tastes. Players feel it's one of the most energizing and least complex gambling games to learn. Consequently, Roulette is available in both online and physical casinos the world over. And when it comes to the game's name, it means "little wheel" in French, which fits it like a glove. Having all this in mind, it comes as no surprise that a casino without Roulette is hard even to imagine. And when you add its simplicity, high odds, and the fact it's so easy to get into, you've got yourself every gambler's dream.
The Coming of New Innovations in Roulette
With the ever-increasing availability of the internet, players who can't visit a gambling venue can now appreciate the game on the web too. There are no differences in the rules whatsoever, and you can engage in Roulette games not just from your computer but from your smartphone or tablet as well! However, there are a couple of differences, mainly related to the gambling experience in general.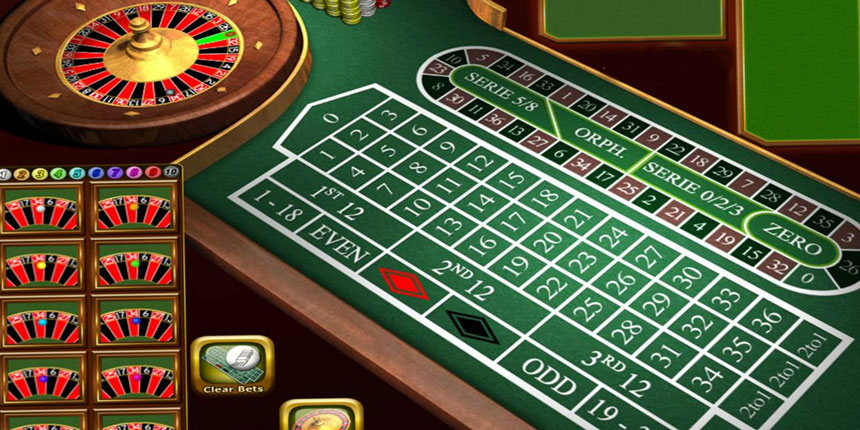 In a brick-and-mortar casino, the one who spins the wheel is the croupier, while in a virtual one, that is all done by a computer program — Random Number Generator (RNG). That is how online gambling sites ensure all of their games are 100% fair and truly random. Now, the benefits of gambling online are plenty. For example, you can indulge in the fantastic experience that is playing online Roulette while sitting in your living room in your robe or just your underwear. However, if you decide to go to a physical gambling venue, you can experience the hustle and bustle of dozens of gamblers around you, and maybe even some friendly banter. On top of that, most casinos will also provide you with free refreshments to make your stay there that much more enjoyable.
Now, we understand that there are pros and cons for both of the aforementioned gambling methods; after all, no gambler is the same. Hence, some might love the idea of playing from the comfort of their homes and their fluffy slippers, while others might find the thrill and the ambiance of land-based casinos an indispensable part of the gambling experience. But we have to say that these innovations brought upon by the internet have made lives of many a gambler so much easier. For example, gambling enthusiasts from the U.S. no longer have to drive all the way to Las Vegas or Atlantic City to enjoy a couple of Roulette spins. Instead, they turn towards some of the thousands of web-based casinos!
Now that we have shown you the differences and benefits of both of these mediums of gambling, let's go back to the topic of online Roulette and familiarize you with its basics.
Roulette 101
Let's get one thing straight right off the bat — Roulette is a game of chance, and as such, its outcome depends entirely on luck. Now that we've gotten that out of the way, let's talk more about the game itself.
Roulette Variations — Know Your Wheels
First and foremost, there are multiple variations of Roulette, and you have to begin your gambling adventure by picking one; the most prominent ones are the European and the American variants. Now, there is also a French version, but only a handful of casinos have it. In a nutshell, the main differences between these Roulette types are the number of pockets on them, and consequently, their house edge. Here's more info on their characteristics:
The American Wheel — this Roulette wheel has numbers 1–36 and includes two zero slots (0 and 00). This variation comes with the most unfavorable house edge of 5.26% because of that.
The European Wheel — this variant's wheel is the same as its American counterpart, except for the number of zero pockets — it has only one. That means the house edge of European Roulette is half that of the American one (2.63%)!
The French Wheel — this wheel is utterly identical to the European one. However, what distinguishes it from its twin are two rules that this version usually applies — "La Partage" and "En Prison." Basically, these work in favor of the player, lowering the house edge even further — down to 1.35%
All in all, when choosing which variant to play, we would advise you always to pick the French version; that is, if you can find it in your online casino's game library. If not, the European will be good as well. However, avoid the American version at all costs.
Note: Do have in mind that there are plenty of additional variants of the game in its online iterations, such as Multi-Wheel, Double Spin, Triple Bonus, etc. So if you decide to try any of these, be advised — look up their house edge before deciding to play! If it's higher than the standard European Roulette's, we have to urge you not to play them.
Choose Your Bets Carefully
When playing online Roulette, it's imperative to bet wisely. That is why we're here to familiarize you with all the available bets and how favorable they are for you.
Inside Bets
These wagers typically have low odds but high payouts. Here are some examples of these bets:
Straight
Split
Street
Corner
First Four
Since this is a beginners guide, we won't go into further details regarding these. That is because these wagers aren't favorable for you. So unless you are a high roller with a desire for adrenaline-pumping, high-risk gambling, we would advise against placing any of these bets. But if you're still curious to find out more about them, feel free to look them up.
Outside Bets
We finally got to the good stuff! These are the wagers you want to place when playing Roulette; all of them offer near 50:50 odds (except the last one, which has close to 33%). That is why they are popularly called even money bets. They are the following:
High/Low (1–18; 19–36)
Red/Black
Even/Odd
Dozen (1–12; 13–24; 25–36)

These wagers are self-explanatory — you bet on a group of numbers/colors, and if Fortune favors you, you win! Now, these bets do have much lower payouts than inside ones (1:1 for the first three, 1:2 for Dozen); however, they are a much more secure option for beginners, and we'd have to advise you to go with one of them.
Look for Lucrative Bonuses
This piece of advice is exclusive to online casinos and is one of the main benefits they offer over their land-based counterparts. Most gambling websites will provide new or returning gamblers with a plethora of fantastic bonuses. These often manifest in the form of free funds to gamble with, and online Roulette is no exception. Although most common types of bonuses are related to slots, you'll surely be able to find some for Roulette as well; you just have to do some research prior to picking an online casino to gamble at. After all, who doesn't want to play with free money? So open your browser and happy hunting!
Note: Be advised that most bonuses entail wagering requirements. So even though you will receive free money from the casino, you won't be able to withdraw it before wagering the size of your bonus a particular number of times. These requirements will differ between casinos, but most reasonable ones are in-between 20x and 40x.
Fun Facts
Did you know that another name for the Roulette wheel is the "Fallen Angel's Wheel?" Well, the reason behind that is simple. No, it's not because gambling is considered a vice. It's actually because the sum of all numbers on the wheel amounts to 666.
Did you know that 17 is the number most commonly bet on? And why do you think that is? Well, it's a fun little piece of trivia — it's James Bond's favorite wager!
Recap
So now that you've gone through this guide, you're ready to set off on your Roulette adventure. So let's summarize one more time what you should do to maximize your odds!
Firstly, find a good and reliable online casino that suits your preferences and provides a wide variety of Roulette games.
Secondly, choose French or the European version of the game. Remember — those offer the best odds for you!
Thirdly, make sure to place even money bets — these are the safest option for beginners.
And last but not least, go bonus hunting! Find the best offers out there and profit from them.
All in all, now you're finally ready to leave your nest and soar into the wild blue yonder. We wish you plenty of luck and fun on your gambling journey!